Thu, February 25
2:00 pm - 3:00 pm
Combating Imposter Syndrome: 6 Lessons from a Marketing Fraud
Presented by XcelerateHER
In this talk, our speaker Tiffany shares her own experiences along with the framework and tools she uses every day to eliminate it.
We've all been there. You finally step foot into the job you've wanted forever only to feel like you aren't good enough for the role, or worse, a complete fraud. You're not alone, an estimated 70% of people from all walks of life, both men and women experience imposter syndrome at some point in their careers. 
You'll walk away knowing how to:
Get off autopilot – Identify the negative self talk in your head and how to handle it.
Identify your villains & find your Shine Crew
Discover your Legacy, what you were meant to do in life, and learn how to visualize it.
About Tiffany:
Tiffany has always wanted to work on the internet. After all, she started SEO when she was in elementary school! Since then she has spent the last 15 years of her career working on over 500 websites in both SEO & PPC. She was named as one of the most influential growth marketers by Mashable, teaches SEO/SEM at McMaster University, and even won the Tech Woman of Canada award in 2012. She is now the founder of Flowjo.co and the creator of The Growth Hacking Box & Self Care Bucket List. 
PRESENTED BY: TOWN OF INNISFIL /DMZ Innisfil & XCELERATEHER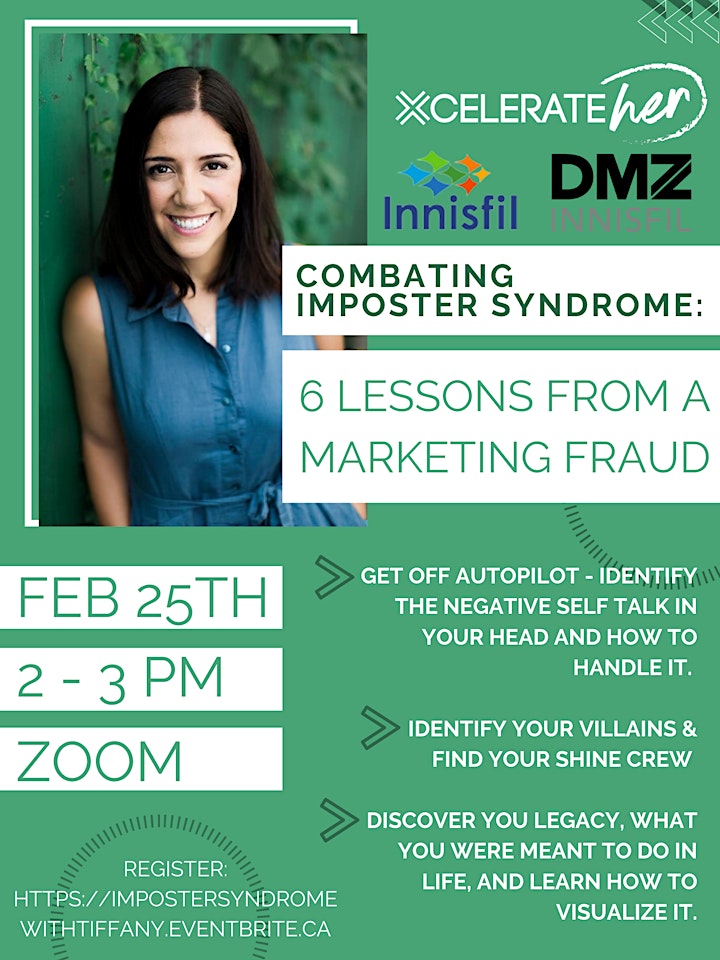 Share with friends